PROPHET WILLIAM SAUNDERS CROWDY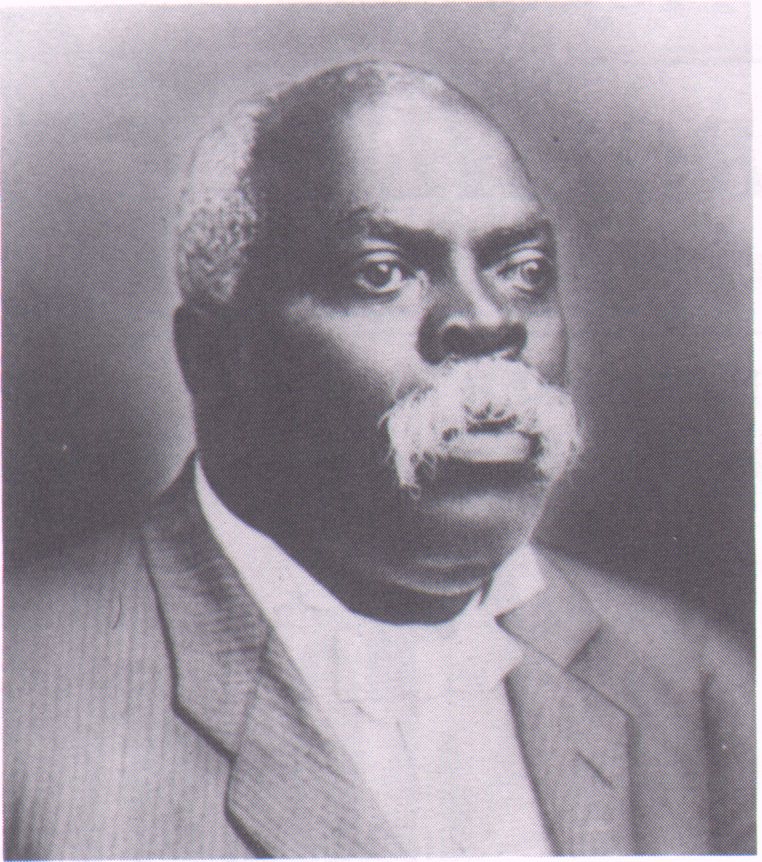 August 11, 1847 - August 3, 1908
THE TEACHINGS
The more a person studies history, the more he realizes this is true. History is made up of the lives of many men and women. Great men have made history. Sometimes one man stands out so clearly that history becomes the story of one. This is the case of William Saunders Crowdy, a great preacher (the World's Evangelist), who later was acknowledged a Prophet of the Almighty God, the man who founded the Church of God and Saints of Christ in 1896, an organization with branches throughout these United States of America, Canada, Africa and the West Indies.
In the year 1847, amidst the turmoil of post Mexican War days a baby boy was born of slave parents in Maryland. The religious upheaval on the frontier of the United States was among other things a quest for something better in the way of religion and was not confined to any particular race, country or creed, but was a need voiced by humanity in general. Mankind had communication with the divine power, the power that made heaven and earth and the sea; the power that caused lightening and the rain, that made snow and changed the seasons. This direct communication with this power was lost since the days of the Apostles and Prophets and many of the more spiritual minded of men cried out in their distress in the words of Elisha, "Where is the God of Elijah?" Many of the early frontiers people of the United States felt the need for such communication with the Holy Spirit, but it was the poor enslaved captives from the continent of Africa who ceased not to call upon God from the depths of their souls.
So God in His own wise providence and in his own time, did raise up one from among them, in answer to their prayers, a fulfillment of the prophecies of the Holy scriptures according to Malachi Chapter 4 and verse 5.
At Charlotte Hall, St Mary's Co., MD, a baby boy was born to Basil and Sarah Ann Crowdy. The baby was called "Wilson" and grew up on a slave plantation where his mother was a cook. He was lost to his family for forty years, during which time he joined the army where he was assigned to the Quarter Master Corps cooking for the officers. He fought for the cause of freedom in the Civil War and when the war was over he settled in the western part of the United States. He bought a small farm in Guthrie, Oklahoma, but later frequented Kansas City, Missouri, where he got married and raised a family.
The Lord began working with him in 1893. It was many years before he learned to obey and realize that the voice was not of his own imagination but actually the voice of God speaking to him. He soon learned the lessons taught him by the voice of God, that he was able to advise and instruct others to know and to harken similarly.
THE FIRST TWELVE YEARS
The first twelve years of the years when the Founder, Bishop William Saunders Crowdy was the active leader of the Church, were momentous indeed. There was first of all his great struggle to firmly establish a new organization which did not meet the approval of many people, even whole organizations. Not only was the leader himself persecuted but all those early members who believed he was right and aligned themselves with him in the face of this strong opposition, were maligned too. In many places their meetings were disrupted by the throwing of missiles; often they were threatened with weapons and have been known to fear for their very lives.
While passing through the streets they were at the mercy of misbehaved children who called them vile name and hurled mud, sticks, and stones or anything else that came to hand. The Saints, however, were taught to turn the other cheek and to otherwise deport themselves like sheep; to go on their way and leave vengeance to God. These incidents happened in many cities and towns throughout the United States.
ALL ALONE
The revelations which resulted in the ultimate establishment of The Church of God and Saints of Christ, began to come to William S. Crowdy when he was a cook for the Sante Fe Railroad. That this should be is foretold by the word of the Lord according to Psalms, chapter 68; also Psalms 81, verse 6, which says, "I removed his shoulder from the burden, his hands were delivered from the pots." The whole revelation of The Church of God and Saints of Christ did not come to him all at one time, but "precept upon precept and line upon line here a little and there a little" as recorded in the writings of the Prophet Isaiah, chapter 28, verses 10 and 13. It was early in the year 1893 that he first began to receive these visitations which at first were urges to go away or to go off by himself. He refused these urges staying close to his home and children not wanting to be alone even to go to work. His wife also noted his strangeness and watched with female instincts. She noticed that at nights every few minutes he would rise from bed, go over to his bureau and write on a tablet. When day came, however, he went about his business as usual, seemingly unconscious of what happened during the night.
One evening his wife asked him why he was so restless at night and why was he writing on his tablet. He asked he "what tablet?" When she saw that he really did not know what she was talking about, she got the tablet and showed it to him. He said he looked at it and the whole vision of the Church came before him again, for on the little tablet he had written the "Seven Keys" which had been revealed to him during the night. It was at this point that he went out into the city of Guthrie, Oklahoma, the nearest village and began to preach in the street. He also became conscious of another change that had taken place in him, he was preaching the Bible, giving references, and quoting chapters and verses. His friends marveled at the change but he himself could not believe that he actually knew the Bible and would go home and look for verification of things he had quoted as being in such and such a chapter of the Bible. He was always amazed at the results, his quotations were there word for word.
After preaching for some time in his home town, Guthrie, he began to branch out to the neighboring villages and towns preaching, converting and baptizing. He was arrested a total of 22 times, or was held for examination of sanity, in many of the western towns and cities in which he preached. He said that in one place the Spirit came upon him and he began to preach in jail and when he had finished he asked, "Do I talk like an insane man?" And they answered "No, sir" and quickly turned him loose.
In the year 1896, he reached the city of Chicago and began as usual to preach on the street. He seldom preached the same sermon twice, but would "open his mouth" as God told the Prophet Isaiah, and say whatever the Lord gave him to say. Sometimes the words given him were palatable to his hearers "but," he said, "they were often like vitriolic acid." He was arrested several times on the streets of Chicago, but as soon as he was released, he would go to another place or even return to the same place, and continued preaching.
While in Chicago he was ordained a Bishop by a few of the ministers he had commissioned to preach. The Church of God and Saints of Christ became an organization. The Presbytery Board and all officers necessary for the management of an organization were appointed, the Bishop was the Executive Head and was given papers to preach the gospel wherever providence allowed. Most of the officials and members of the Church, when it was organized in the West, were Caucasian.
Bishop Crowdy now had an organized body, with members who loved him dearly, many believed he would settle down and take things easy, but no, he still had to go on. He traveled from one western town to another, organizing the Church and moving on.
BEGINNINGS IN THE EAST
The newspapers throughout the United States of America carried articles about the preaching of Bishop Crowdy in Chicago. He stirred up the city preaching about the Meat Law and that Christ was black. Many people everywhere were reading and discussing the news concerning the "Bishop Crowdy" in Chicago, who was confounding the whole world with a strange new doctrine.
In Oneida, New York, someone by the name of George Labiel read the articles and shared them with his neighbor, Mrs. Titus. When Mrs. Titus read about Bishop Crowdy, she decided that he should be invited to preach in their town. She wrote a letter to Bishop Crowdy in Chicago, and invited him to Oneida. She also sent him his fare. Bishop Crowdy accepted the invitation and left Chicago traveling by way of Detroit, Michigan and Canada. He set up churches and both places, ordained ministers and continued on his journey. On arrival in Oneida, New York, Bishop Crowdy was met by what appeared to be "opening day at the fair." There were "horses, wagons, buggies, transportation of all kinds were ] bringing people from miles away. The streets were full of those who lived nearby, traveling on foot. It was a big day for Oneida. The women were dressed peasant fashion in long full skirts and shawls over their heads." The large hall was packed, there was not even standing room and the crowd overflowed outside the building. It was a Spring day, and all who could not get in the hall stood around outside, not wanting to miss this extraordinary man of God. The gathering was organized by the Seventh Day Adventists.
When Bishop Crowdy arose to speak he quietly said "Church of God and Saints of Christ." He preached in a low voice using as his text the passages of scriptures around the walls of the hall. "The sermon was one such as had never been heard in that hall before nor since." Bishop Crowdy preached and baptized in Oneida for several weeks.
Bishop Crowdy then went south towards New York City. Here he again began his street preaching and baptized over a thousand members. This his largest congregation, at that time, was organized May 6, 1899. Churches were also set up in many of the surrounding towns of New York, New Jersey and Connecticut.
Between May and October, 1899, William S. Crowdy, the Prophet of the Almighty God went to the city of Philadelphia. He was unknown and without friends, in a city which was the scene of much religious activity. He could be found on the northeast corner of Broad and Rodman Streets preaching from St. Mark 1:15 - "And saying the time is fulfilled and the kingdom of God is at hand, repent ye and believe the gospel." He remained three years in Philadelphia and established his largest congregation in the entire organization, surpassing that of New York City.
The work in Philadelphia grew rapidly and the Prophet, as he was now called, prepared to open businesses for the membership. This was in keeping with his training to "go in business for yourself." Under the leadership of Prophet Crowdy, the Church of God and Saints of Christ owned and operated the following businesses: a newspaper publication, Gospel Herald; and a grocery store, where members bought stocks in the business. The next place of business opened was a restaurant at 1609 Fitzwater Street, Philadelphia, followed by a barber shop.
In his own words
"I, William S. Crowdy, am a Prophet of God sent to the whole world. But it seemed very hard for me to understand that I must talk to the general world at first.
When afterwards I heard a voice speaking unto me; saying, as he had so said unto Ezekiel, "Son of Man, I send thee to the children of Israel, and to all nations of the earth that hath rebelled against me. They and their Fathers have transgressed against me, even unto this very day; for they are imprudent children and stiff-hearted. I do send thee unto them and thou shalt say unto them, thus saith the Lord God; not Elder Crowdy, or any other man or minister, but thus saith the Lord God who is Supreme above all, an in all; whether they will hear or whether they forbear, yet shall they know there has been a Prophet among them."
The Lord let me know that I should look for trouble and tribulation, but be not afraid of them; neither be afraid of their words; though briars and thorns be with thee. And thou dost dwell among scorpions, be not afraid of their words or be dismayed at their looks and thou shalt speak my words unto them, whether they will hear or whether they will forbear.
GOD gave me to understand that he was not sending me to a people of a strange speech nor of a hard language, for as everybody knows that there are not many people in the United States now, but what can understand the English language. Then when he had showed me that he had sent me to a people of that character, they would not have harkened unto me, then he assured me that he had made my face strong against their faces, and my forehead strong against their fore-heads. That is with wisdom and knowledge sufficient to overcome those that come up against me. Then said he unto me, "gird up thy loins and arise and speak unto them all that I have commanded thee." Be not dismayed at their faces, lest I confound thee before them, for the Lord has made me through his word, as a defense city and an iron pillar, and a wall against the whole land, and they shall fight against me, but shall not prevail. But the people will try to dodge the words by saying there are not any more Prophets now, or that they are all done away with.
Then the question arises, Who did away with them? They will say Christ did away with them."
REFERENCES and CREDITS:
The Bible Gospel Told
- Copyrighted December 16, 1902, In the Office of the Librarian of Congress, Washington, D.C.
The Life and Works of William Saunders Crowdy - Information adapted from the Life and Works of William Saunders Crowdy
, by Beersheba Crowdy Walker, Elfreth J.P. Walker, associate editor. Philadelphia, PA: published by Elfreth J.P. Walker, c1955.
Introduction adapted from The Church of God and Saints of Christ : the rise of Black Jews
/ Elly M. Wynia. New York : Garland Publishing, 1994. ISBN 0815311362